surMAX™ THE BEST CHOICE FOR FINE PARTICLES ABRASIVE SLURRIES
Following the dramatic success of the micMAX™ metal slurry pump, We has incorporated the designed features into a new surMAX™ rubber lined pump product range.

The advanced feature has an externally adjustable wear ring that closes the suction side impeller clearance between the suction liner and the eye of the impeller.

This clearance eliminates the problem conventional rubber lined pumps experience – that of pressure pulsations caused by the close proximity of the rotating raised expelling vanes to the suction liner, necessary to maintain flow, and subsequently generating heat in the liner and rubber devulcanization failure.
The ability to control the suction side clearance reduces the hydraulic recirculation and therefore contributes to maintaining the design fl ow over the life of the pump, increasing the life of the impeller.
HEART OF DESIGN
RUBBER LINED CASING – The extra-thick rubber lining has rigid reinforcement to prevent collapse onto the rotating impeller under upset vacuum conditions. High pressure casings are available for applications requiring multiple pumps in series.
WEAR RING – adjustable wear ring assembly to permit closing of suction side impeller clearance during operation. This reduces slurry recirculation and lowers pressure at the suction area, thereby maintaining flow and reducing wear.
IMPELLER – designed for high slurry efficiency and hydraulic performance. Machined surface at the eye for wear ring adjustment and high expelling vanes. Impellers are oversized in diameter and available in metal or elastomers.
POWER FRAME – heavy duty cast iron pedestal with external bearing assembly adjustment mechanism. Drilled for overhead motor mounting assembly.
FLANGES – loose intake and discharge flanges drilled to suit various pipe requirements.
BEARING ASSEMBLY – heavy duty shaft and indirect fitted taper roller bearings rated at 100,000 hrs B-10 life minimum. Bearing arrangement designed to prevent over greasing and ingress of slurry.
THE KEY ADVANTAGE TECHNOLOGY: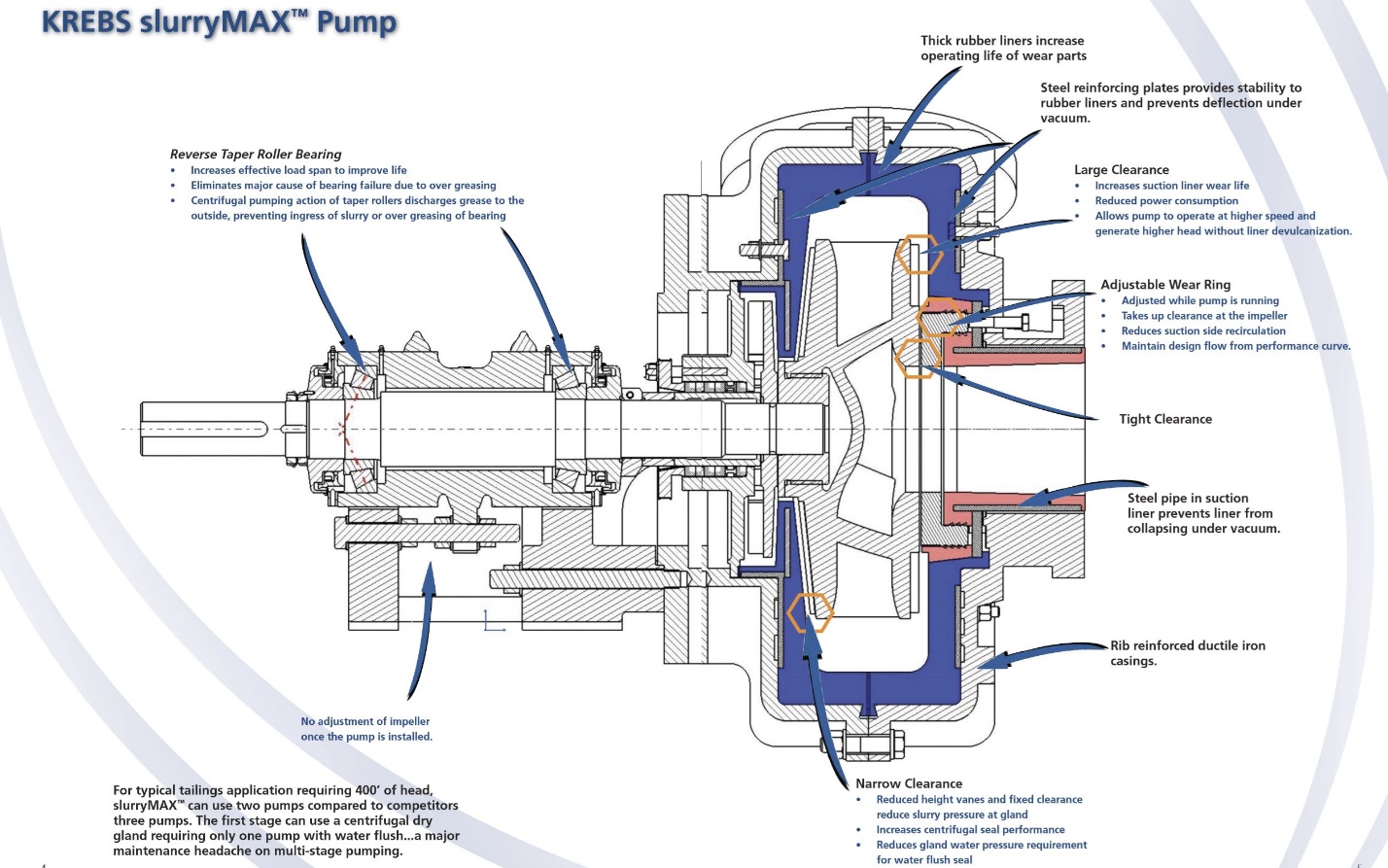 High-chrome impeller is resistant to "tramp" metals and is capable of higher tip speeds. Tight clearance between wear ring and impeller reduces suction-side slurry recirculation by up to 95%. Pumps feature a patented, adjustable, suction-side, sealing system that features a wear ring that runs against the machined face of the impeller near the eye.
Wear ring can be adjusted up to eight times throughout the life of the wet-end parts and is adjusted while the pump is running.
Generous clearance between impeller and suction liner limit the cyclical wear of the rubber associated with the trapping of solids between the liner and the impeller.
Radial impeller vanes both "clear" solids and reduce pressure at suction-side clearance – reducing solids grinding and recirculation respectively.
Tight back liner clearance maximizes packing and shaft sleeve life – normally this clearance is opened up as impeller wears and needs adjusting.
DRIVE ARRANGEMENTS
| | |
| --- | --- |
| | |
| Overhead on top | Reverse overhead |
| | |
| --- | --- |
| | |
| Side by side | Direct inline |
APPLICATIONS
Mining industrial
Mineral ore: Apatite, Gold, Copper, Titanium, Nickel, Iron, Alumilium, Sand and gravel, Ash and slag,…
Processing SAG mill discharge
Cyclone feed
Tailings
Mill discharge
Industrial processing
Heavy-duty abrasive slurrie